On Friday 12th April at 16:15 we were pleased to hear that our proposed new build Lake Houses, at Tidbury Green was signed off by our Building Inspector and they are now on the open market.
Therefore, this week we thought it would be appropriate to write this week's blog about this flagship development in the 60 acres parklands and golf course. Tidbury Green is a delightful rural village close to Solihull, with renowned Earlwood Lakes, a haven for sailing, fishing or walking.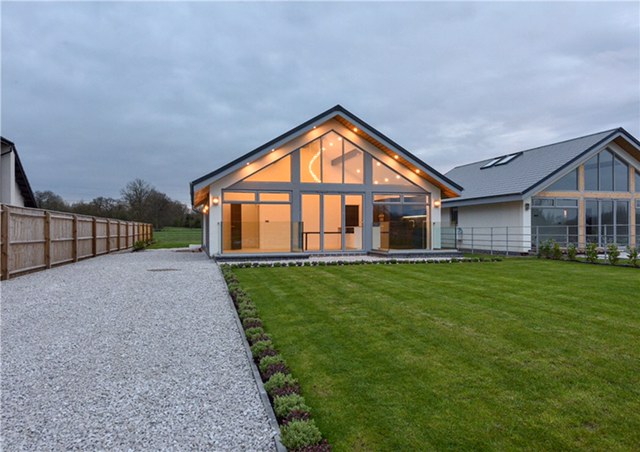 Our project brief was to be beautiful and practicality; for our clients' golf course development. The new part-submerged house became an elegant solution for the height planning restrictions which we had to comply to. Our wonderful duel aspect glass fronted family home offered stunning views across the country park. Which enabled us to design this property for both delight and function, allowing spaces for family and social occasions, whilst also for calm reflection.
Whilst we were designing the development we followed the sun path diagrams and data to maximise on the natural benefits of the sun's rays. Understanding the path of the sun throughout both the day and the year assisted us in the design of both daylighting and factoring in solar gain, solar shading and glare.
The entrance hall is accessed from the side of the property, with two side panels which naturally lights up the hallway, but we also introduced two Velux roof lights and a glass balustrade from the first floor plan, which captures the beautiful evening western sun, inviting you to the floating stairs descending to the lower ground floor. Welcomed from the entrance hall we designed two reception rooms, and an open plan vaulted kitchen dining room with floor to ceiling windows designed for the perfect modern family life, perfect for enjoying those long summer evenings, with the kitchen bi-folding doors opening onto the garden. To the rear of this home, we've designed this lounge to be double height, overlooking the rolling parklands and golf course, with access to the first-floor study.
The lower ground floor bedroom accommodation creates a real feel of privacy, whilst maintaining comfort with a sense of freedom at the heart of the development. A level access threshold is granted through all of the bedrooms, granted to your own private sunken garden. Our designed lightwells maximise on natural light further in the design development, and the open plan living provides an uninterrupted feeling of space throughout this home. The master suite is located to the rear of the property and boasts south facing views into the private sunken garden accessed from the master suite. There is a dressing area which leads through to the well fitted en suite. The en suite shower room benefits from a double walk-in shower.